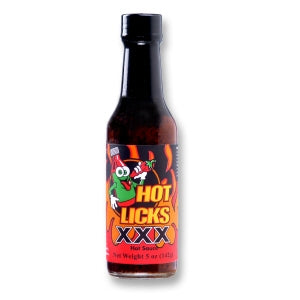 Hot Licks XXX
Product Description
Hot Licks XXX Extreme Heat Hot Sauce 5 oz. Habanero & Jalapeno double team the tastebuds for a strong long lasting burn.
Ingredients: Water, Vinegar, Habanero, Jalapeno peppers, Garlic, Salt, Pepper extract, and Spices.
Warning: EXTREME HEAT, use sauce one drop at a time.  Keep away from eyes, pets and children.
"As a long-time spice lover I can say that this is a great item. It has a nice, long burn and a good mellow flavor that doesn't override the food at all. It's my new favorite hot sauce!" - Dodge
Yotpo Reviews