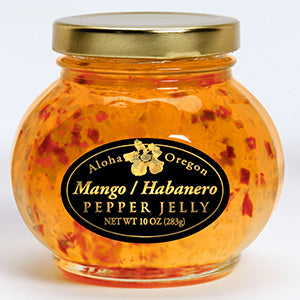 Aloha from Oregon Mango Habanero Jelly
Product Description
Aloha from Oregon Mango Habanero Pepper Jelly, 10 oz. Ingredients: Sugar, Water, Cider Vinegar, Mangos, Pectin and Habanero Peppers. 
Serving suggestions; add it to your meatball recipe, a delicious glaze for pork or shrimp, a spread with cream cheese on bagels or crackers, make a Pepper Jelly Cheesecake or bake Sassy Chicken. 
"sweet combination of yummy mangos followed with "yep that is hot". You will feel the habanero flavor in the back of your throat, but you can't wait to take another bite."
Yotpo Reviews