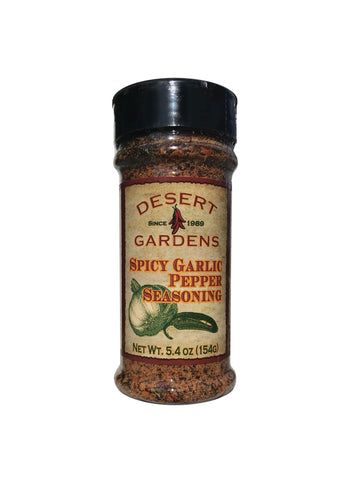 Desert Gardens Spicy Garlic
Product Description
Desert Gardens Spicy Garlic Pepper Seasoning, MEDIUM HEAT LEVEL
Black Pepper and granulated garlic with chile pequin, bell peppers, and a hint of brown sugar. This is an all purpose seasoning blend perfect for grilling or baking meats and vegetables. Low in sodium and a medium heat level. 5.4 oz.
Ingredients: Granulated garlic, black pepper, salt, brown sugar, granulated onion, crushed red chili pepper, paprika, red and green bell pepper, parsley.
Nutritional Facts: 
Serving Size: 1/4 Tsp(1g)
Servings Per Container: about 142
Amount Per Serving
Calories 0 Calories From Fat 0
Total Fat 0g 0%
Saturated Fat 0g 0%
Trans Fat 0g
Cholesterol 0mg 0%
Sodium 90mg 4%
Total Carbohydrate <1g 0%
Dietary Fiber 0g 0%
Sugars 0g
Protein 0g
Vitamin A 0%
Vitamin C 0%
Calcium 0%
Iron 0%
*Percent Daily Values are based on a 2, 000 calorie diet..
Yotpo Reviews